1-acre compound about a mile east of Interstate 5 in Encinitas
1-acre lots are certainly more attractive than what this photo shows, tract homes as far as the eye can see! It also offers much better option for comfortable living and a way to give everyone some space, which is hard to get these days…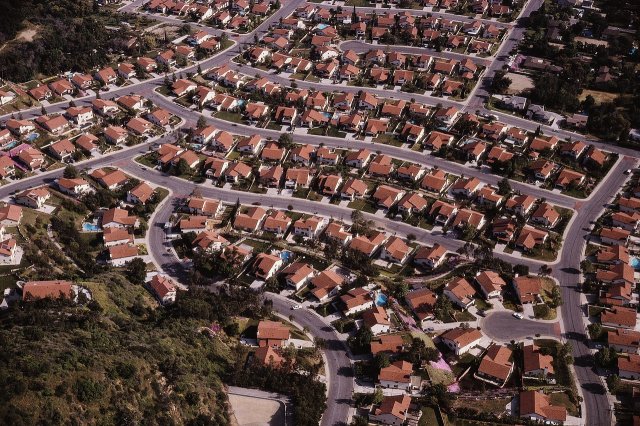 Finding a plot of land large enough to build one new estate in coastal San Diego County is hard enough, so imagine the surprise of finding a parcel that can hold about 12 of them.
Look no further than Insignia Mainhouse, where for a little more than $2 million you can buy a newly built 1-acre compound about a mile east of Interstate 5 in Encinitas. The complex, which had its first residents move in around Christmas, means new estates in the county are no longer limited to more rural areas like Olivenhain, Rancho Santa Fe, or single lots along the coast.
The development, on the former site of a nursery, is the latest project by City Ventures. The land, zoned for 12 residential units, is just south of Santa Fe Drive, near San Dieguito Academy. Efforts by previous owners to build about 150 attached homes failed at city hall in 2008.
"Everybody wants to see one home per acre, but that really impacts affordability" said Mark Buckland, CEO of City Ventures. "The cities really don't have the desire to allow any level of density. It makes it very difficult for people to enter these markets."
Models open the weekend of Jan. 17. Each lot includes a roughly 4,500-square foot agrarian style mainhouse, a Z-shaped ranch house with volume ceilings. What you do with the other 39,000 square feet on the parcel is largely up to you. Read more…
Who needs a larger plot of land to live on? Maybe someone who wants a horse ranch, a grove of some sort or agricultural land for growing crops. However, try to buy that in coastal San Diego County! Bonsall is a place you can find larger parcels of land if you want to start, say, a vineyard or some other can of agricultural business or a horse ranch. Find out more about Bonsall in San Diego North County, located only 12 miles from the Pacific Ocean…