Another article about grape growing in San Diego County
Highland Valley's newest vineyard rises from ashes. Lynn Robinson and husband, Mark, will open their winery, Domaine Artefact, to the public on Saturday, Dec. 20 in Highland Valley.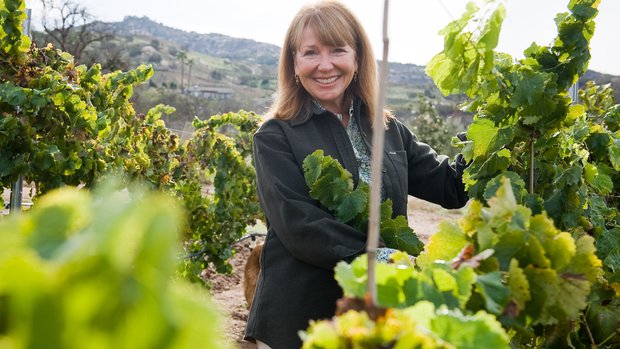 ESCONDIDO — On a spectacular morning in Highland Valley last week, Lynn Robinson climbed the hill where her front porch will eventually be built and looked back toward her vineyard, 30 acres of grapes and horse corrals nestled in a valley that will soon be widely known for the fruit of its vines.
So it was a century ago, when Highland Valley produced some of the finest fruit around as a major contributor to Escondido's booming grape-farming industry.
And so it will be again, Robinson assured me. She pointed to the neighbor's vineyard, smaller but older, and another one across the valley. In all, there are at least five relatively new vineyards in the valley, and that's not including the sprawling Orfila Winery that lies a few miles to the northwest.
On Dec. 20, Robinson and her husband, Mark, will open the newest tasting room — Domaine Artefact — to the public, with their first bottles of wine made from grapes grown right here, in the hills between Lake Hodges and Ramona.
"We bought the property in 2007 and closed escrow two weeks before the Witch Creek fire," Lynn Robinson told me on Friday. "The fire came up over this (ridge) and burned through the valley. Lots of homes were destroyed, because this was the convergence of two fires. Fortunately for us, we didn't have anything here except a small agricultural storage building.
"The fire came through and pretty much burned all of the citrus" that existed on the property at the time, and that settled it, she recalled.
The fire had determined their fate as farmers.
They began planting vines in 2010, and will finish planting their approximately 16 acres of vineyard space this spring, for a total of 15,000 grapevines.
This year, the couple imported most of the fruit that is now fermenting in their workshop, but Robinson told me she expects their vines to yield 12 tons of fruit next year — enough to produce about 750 cases. Eventually, at full capacity, she thinks they can turn out 30 tons for close to 2,000 cases. Read more…
Yet another great article about grapes and wineries, this one is about Domaine Artefact winery in Escondido that will be open to the public on December 20th for wine tasting. I believe at least that San Diego North County is poised to become a grape growing region with large and smaller wineries located throughout the area. It's perfect for it, the climate, topography and the location couldn't better for growing grapes, it looks like little Tuscany! This is a photo I took over Bonsall, which located only 12 miles from the Pacific Ocean and next to Fallbrook.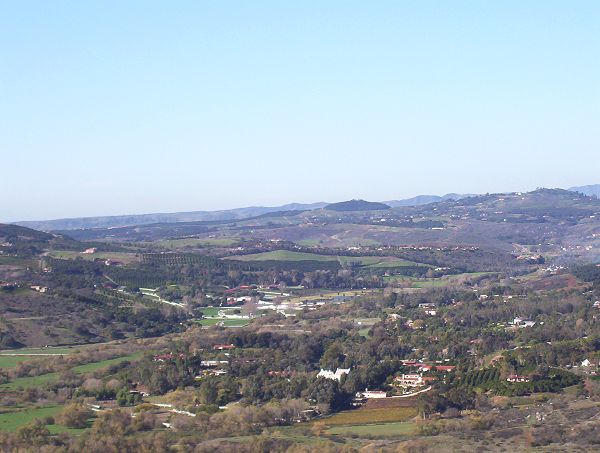 A recent article in the North County Times called "Winemaker has visions of vineyards in Fallbrook's future. Grape grower says: "It's ideal, almost — the soils, the rainfall, the fact that we don't have rains late in the harvest season, which really wreaks havoc … in Napa and Sonoma," he went on. "And the temperatures are great. … the grapes heat up in the daytime, and when the fog comes in at night during the harvest, it cools them down, which promotes the right balance of acids within the grapes." Grapes are starting to be introduced into area due the topography of the region that creates an ideal micro-climate. Bonsall and Fallbrook is resting between the Pacific Coast and the Pala Mesa Mountains. A climate characterized by consistent and moderate temperatures throughout the growing season with warm days and cool nights. This could really boost the local economy and bring more travelers to the area for the day or to become permanent residents. It's exciting to think that many of the inland communities in the North County could become a destination for wine tasting, which could possibly bring more good restaurants too…

Don't hesitate to contact me about homes with land or just land that would be perfect for grape growing where you can start your own winery.