A pod of Orcas spotted outside the coast of Oceanside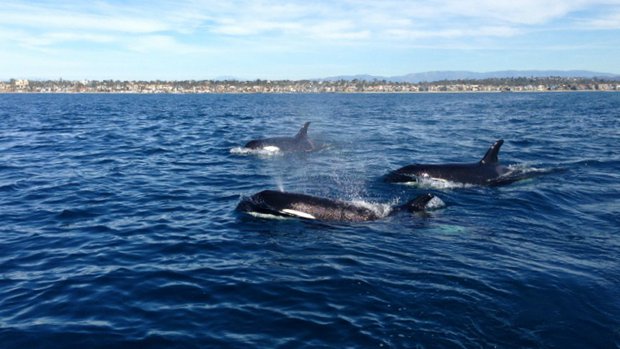 Nature provided an "extraordinarily rare" treat this Thanksgiving week for a handful of Oceanside police and lifeguards: An up-close look at a pod of killer whales playing in waters off the coast.
"Oh my God, it was amazing," Oceanside police Sgt. Jeff Brandt said Wednesday about the encounter, which took place Monday morning about a quarter-mile from shore. "Here we are, checking them out and they kept coming up to the boat and checking us out. It was like 'Who are these people in our ocean?' It was surreal."
Brandt, who is with the police department's Harbor Unit, said he was with two other officers when they saw the whales sometime between 10 a.m. and 11 a.m. The playful orcas — Brandt thinks it could have been as many as 20 — swam around and under the boat.
"I've spent 44 years on the water," he said, "and I've never seen orcas like this before."
Researcher Alisa Schulman-Janiger said Wednesday afternoon that it's incredibly rare for the type of orcas the crew spotted to be seen along the California coast. And it seems the pod is headed north: Schulman-Janiger excitedly said she was about to take a boat ride to see what she believed was the same pod of killer whales as they swam toward Point Dume in Malibu. Read more…
Source: UT
What a great place we live in where residence can have sure a rare opportunity to be able to see some of the most magnificent mammals of this earth swimming in the waters outside coast… Life's amazing!